Don Ricos Sports Bar & Grill
The Premier Sports Bar in Daytona Beach
There's no better Daytona Beach Bar and Grill to grab a drink and catch the game than Don Ricos. From the moment you enter, you'll be greeted by colorful decor, friendly service, and a captivating oceanfront view. From there, local beachy flavors and hearty menu items — like blackened shrimp tacos, grilled angus strip steak, and crab cakes with Florida beach bread, as well as shareable plates of grilled calamari fries, wings, or nachos — set the stage for satisfaction. Especially when you wash them all down with an ice-cold beer from our craft brew selection, a glass of vino from our sommelier-curated wine list, or one of our signature margaritas. No matter what you're in the mood for, Don Ricos Bar & Grill serves it with a side of fun. Stop in today and see what's cooking.
Don Ricos After Dark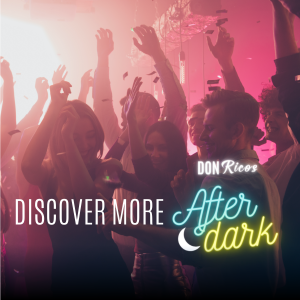 More Than Just a Night Out
Don Ricos After Dark
Join us as the night scene heats up on Friday & Saturday evenings from 10:30 pm to 2 am and experience the transformation from restaurant by day to cocktail bar with live DJ by night. Don Ricos After Dark is shaped by its culinary-driven cocktail program, late night bites, bustling live entertainment, Midnight Happy Hour specials, spirited nightlife and dancing.